Posted by David Wood in It's Not You It's Them
on Dec 27th, 2011 | 0 comments
Update#1 'Hate Mail'
"You consider that important? you are as full of it as he is.
give me a break. so long."      – Dan
"You guys typically have some unbelievable/moving
messages. But that's the dumbest sh*t I've heard in a
long time. How is Bryan being authentic by digesting
and agreeing with that crock of sh*t?
You can tell he's full of it just by his reactions in that video.
Think you might wanna run that one by Decker before
sending it out to any more members."
– Sean
"Sorry guys, but this time you've picked up a load of B.S."
– Andrew

…And to those people, we blame you for making us feel bad.
Seriously, while most people got it, it seems that some people didn't realize it was a joke.
Or at the very least, they felt "duped" because we were playing a trickster role in telling you it was a "very important message" in the email.
THE REAL VALUE OF THIS VIDEO
Bryan and I actually think the video has a very important message — a playful way of pointing out how we so often don't take responsibility in our lives. As I mention in the comments below: "you think at some point or other we don't do or think every single one of these things?"
I'm blaming people and things all the time for my life.
"My parents could have done a better job"
"The Government screwed up free expression"
"My cat is to blame for my lack of sleep last night"
It's human nature!
Of course, we suppress that 'show side' and try not to show it so our friends will think we're enlightened. But it's part of the nature of the ego to complain.
Who's to blame here?
It's all an interconnected web, and MY choice, as a place to stand, is  to take full responsibility for the life I'm creating, and advocate for the world I want to see — with my time, money and attention…
That's why the Occupy movement is so inspiring — even if it's rough around the edges in places – there's a spirit running through it that is about proactively creating the world we want to see!
I hope the video Bryan and I made has you taking a closer look at owning up at where you do the things we talk about, just to shine some light on it. And – where you want to be proactive in creating the life or world you want to see. Perhaps you'd start by posting it below.
We welcome your comments, flames, more hate mail, etc. 
NOTE: After watching the video, consider share this IMPORTANT message (and stirring up your friends) by clicking the like button.
Facebook Image: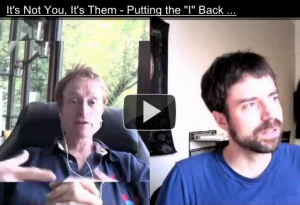 Update #2 – A viewer's video response!